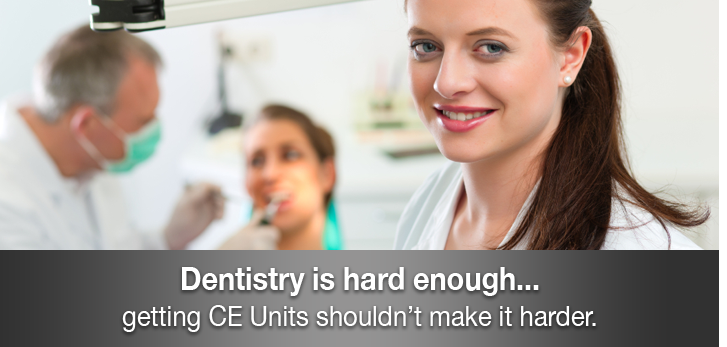 A.C.E.S for dental professionals to earn Live Dental Continuing Education credits. Providing Real-Time, Interactive Online Dental CE webcast seminars. Offering live dental ce credits for Continuing Dental Education units.
LEARN MORE


Accredited Dental Continuing Education
A.C.E.S. Webcast Dental CE courses give you all of the benefits of traditional classroom training, without the hassles!
All A.C.E.S. dental webcast seminars are given in real-time in our virtual classroom. Nothing is pre-recorded.
LEARN MORE


Dental continuing education involves more than just attending seminars. It also takes keeping up with the latest information on Dental Research, Trends, News and much more.
A.C.E.S. pours over the latest dental news and updates from around the world and posts new information each day.
Keep Up to Date


LIVE DENTAL CE WEBCAST UNITS ARE EASY!
A.C.E.S.' webcast allow you the flexibility to earn your live continuing education units from your computer. To participate, simply select a continuing education course you are interested in and then choose a date and time that work into your schedule. It's that easy!
Dental continuing education seminars can be searched by subject matter or by calendar date options.
View Courses Available


Office Managment Blog
The #1 blog devoted to helping dentist successfully manage their practices. New posts daily on important dental topics such as dental practice management, team building, marketing, patient satisfaction, dental web & social media and more…
No other blog shares more cutting edge practice management ideas than the Dentist's Blog.
Read the blog


Clients love our Continuing Dental Education
"This is great. I am a mom of two small children, it's difficult for me get out to seminars and I love this format."
Gina M. RDH, Arizona
"Terrific! What a great method to help us earn live dental CE units without leaving our home or office!"
Merlin B. RDH, North Carolina
"This is the best medium if one wants to really review and learn material."
Katherine S. DDS, California
"Amazing! I love it. Keep up the good work. So convenient."
Nazaneen A. RDH, Maryland
"I absolutely love it! I have told all my dental hygiene friends. I love that you saved me from having to travel to get me live CE units."
Cruz P. RDH, New York
"I think ACES is great! It is hard to take time off of work to attend a dental CE course. This enables you to get the live units done in a convenient manner without missing work."
Nicole P. RDH, Cailornia

Read More